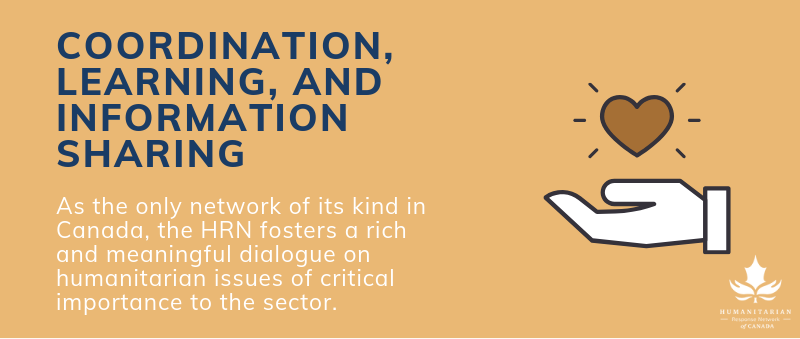 As the only network of its kind in Canada, the HRN fosters a rich and meaningful dialogue on humanitarian issues of critical importance to the sector.
Each year, the HRN hosts three in-person meetings for members from across Canada to come together, build their network and learn from each other. Members contribute to a full day agenda of workshops, panel discussions and information sharing opportunities.
Recent sessions have included lessons learned from the 2018 Sulawesi Tsunami response in Indonesia, an update on the Call to Action on Protection from Gender Based Violence in Emergencies, and opportunities to engage Global Affairs Canada on their priorities and processes.
Additionally, The HRN Heads of Agency (HoA) meeting is an annual event that convenes Executive Directors/CEOs of members, their senior humanitarian staff, and Government of Canada representatives to discuss and consider our collective experience in humanitarian response.
On top of the meetings, members can share reports, events and insights through the members-only listserv and website section. The relationships built through the opportunities to connect online and in-person foster a more inclusive, open and responsive network of individuals and organisations.